Paint schemes and 3 view drawings
Click on the thumbnails below to view a full size image. You should be able to copy any of these into your Microsoft Paint program and work up your own paint scheme.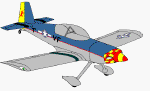 Miss Marilyn (see below) evolved into this scheme. This is the final version and the painting is complete. She's called "Crazy Horse" because she's just not quite a Mustang. But it's as close as I'll ever get unless I hit the lottery!
Rocket painted up similar to "Miss Marilyn" Mustang that I saw at Oshkosh. My wife and I just couldn't handle the boring OD green, so we changed it to blue.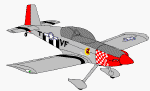 Rocket painted up similar to Don Gentile's "Shangrila" Mustang. This was my first choice until I spoke with Lyle Hefel, who said he was painting the same scheme on his new RV-8. DOH!
Harmon Rocket II with a military theme. I really like these schemes also.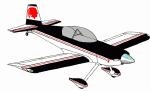 My RV-4, N94VF, was painted with this scheme. Being from Pontiac, Illinois inspired me to put "Chief Pontiac" on the fin and a tomahawk on the cowl. Vince Frazier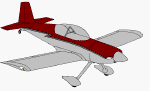 A nice looking scheme, but needs a lightning stripe and some maroon color across the leading edge of the wing to compliment the upper fuselage.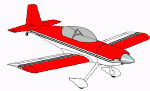 Here's a "One Design" type acro scheme that looks pretty good.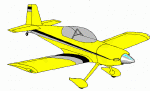 Here's my rendition of Dennis Hackbarth's beautiful yellow HRII. This plane really stands out when it roars past.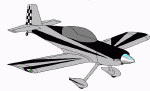 Here's Mark Frederick's paint scheme....Oops! I forgot to put the winshield bow back in. Sorry Mark. I did remove the rollbar though.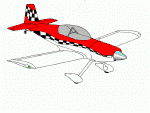 Wow! I outdid myself. Here's a stunning scheme that is a combination of the scheme on Tyler Feldman's RV-6 and the scheme on the Thunder Mustang. Yeah Baby!
This Rocket II scheme was drawn by my youngest son, Blake, age 11. Bruce Bohannon has nothing on this kid!
Blake came up with these schemes also. Pretty good!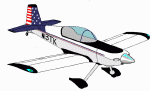 June 1, 2002: Well I took the plunge and ordered and F1 Empennage. It should be here in July. Your site is a wealth of Info for a novice builder such as myself. Thanks for the inspiration. I attached my favorite scheme for the paint, but I may change my mind who knows. Tracy Krznar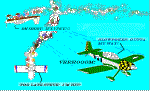 Here's an example of one of the fun things you can do with this stuff. Torment your buddies, let them know you've got way too much time on your hands.
Return to the homepage: http://www.vincesrocket.com/
Last updated: 09/01/06
CAUTION: This web site is not a publication of, nor approved by, Harmon LLC, Team Rocket, Van's Aircraft or any other person or entity listed herein, except me. Be advised that I am a blithering idiot with neither brains nor money and my advice is not to be trusted. So there. You have been warned! Vince