This is Screaming Eagle Graphics and Accessories old web store.
Please go to our new store at www.flyboyaccessories.com
Proudly made in the U.S.A.
Below are some of the fine products available from Screaming Eagle Graphics and Accessories, LLC (S.E.G.A. LLC). These items are available by contacting me at:
Screaming Eagle Graphics and Accessories
Now online at www.flyboyaccessories.com
Vince Frazier
3963 Caborn Road
Mount Vernon, IN 47620
812-464-1839 M-F
812-985-7309 eves/wknds
vincefrazier@gmail.com
---
S.E.G.A. LLC also offers a full line of stock and custom vinyl graphics, spray masks, banners, and sign making services. Click here: www.flyboyaccessories.com to go to that page.
---
Note: Please order from our new web store at www.flyboyaccessories.com It makes the process much easier for us. we have left this web page up and running for those who may find us using old data often found in the RV email forum archives.
---
TAILWHEEL PRODUCTS
Superior Handling, Better Clearance "A Jim Wining's innovation"
Proudly made in the U.S.A.
SEGA offers complete units, parts, tires, bearings and spacers. See below to order.
---
Measuring before you order the retrofit fork "Measure twice, cut once" or is it "Measure twice, order once"?
SEGA forks are designed to retrofit existing Rocket or RV tailwheel sockets. However, over the years a little variation in the dimensions has crept in. To ensure that you get the right fork, please measure the height of your existing socket (see photo below). While you're doing that, measure the fork from the base to the bottom of the square hole as shown (see second photo below).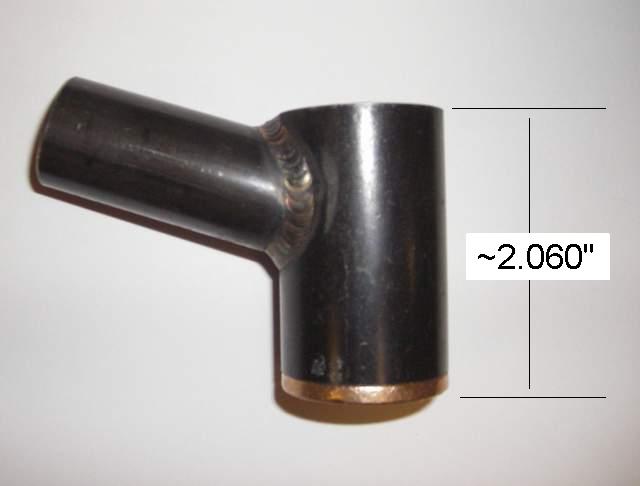 I need this important dimension from your existing socket. It should be about 2.0XX inches tall.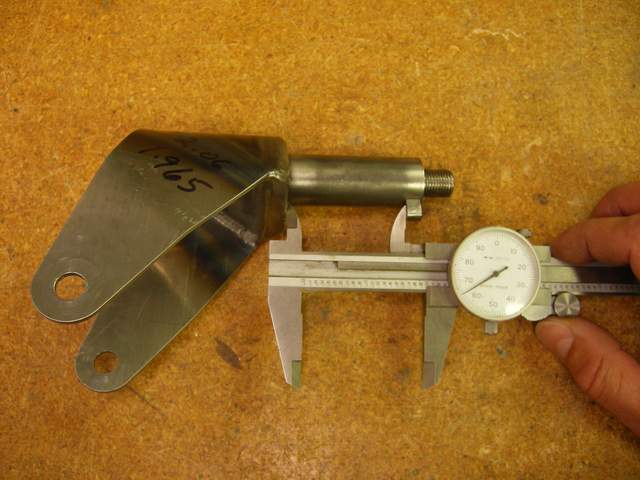 ... this one is the MOST IMPORTANT dimension for a good fit! It should measure somewhere around 1.9XX inches. Push down on the locking pin to remove the slop and record the minimum dimension.
I need BOTH measurements, but the second one is the most critical for a proper fit!
Non-standard heights are readily available at no extra charge... just send me the dimensions of your existing socket and fork and I will make the fork to fit.
Note: If you plan to order a complete tailwheel as shown immediately below, you don't need to measure anything.
---
Ordering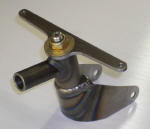 S.E.G.A full swivel tailwheel. Complete unit with fork, shaft socket, and control arm. Also includes axle bolt, nut, washers, and cotter pin, not shown. The complete unit weighs approximately 1.75 pounds as shown, which is virtually the same as a Van's unit. Fits standard 0.635" diameter Van's (Harmon Lange) tailwheel springs.
---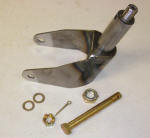 S.E.G.A full swivel tailwheel - fork only. Fork only, for retrofitting existing RV or Rocket tailwheels. Weight 1 pound as shown, which is virtually the same as a Van's unit. Shaft diameter 7/8". This is the item to order if you're already got a Van's type tailwheel and simply want to upgrade it.
Please verify the dimensions as described above in the Measuring section above and email or call me with the dimensions.